Welcome to School Association: News/ Events
Please visit our Facebook page:
Click here
Click to contact us on:
Chestertonschoolassociation@outlook.com
Are you thinking about selling your home?


If you are thinking of selling your home, would you consider using Barton Fleming estate agent? They are currently running a scheme whereby they will donate 10% of their commission fee on the sale of your home to our School Association. Click here
Summer Term 2022

Posted 8th July




SUMMER PARTIES


Friday 14th July: Lower School Upper School



Posted 28th June




SUMMER FAYRE


I hope you all the enjoyed the Summer Fayre and agree it was a great success.
The weather held off - just about - and you helped us raise a fantastic £1,976, which will go a long way in supporting the school!
I would like to take this opportunity to thank all the wonderful volunteers, who turned up from 9am to help with setting up and those who manned stalls and games. Without them, none of this would have been possible.
I would also like to thank Alexander & Co who donated £500 to help us purchase all the food and drink at the Fayre and Sports Day. This has meant that all revenue from food and drink sales has gone directly to the School Association. We are very grateful to Alexander & Co for this kind gesture.



SPORTS DAY


I think you will all agree that Sports Day was hot, hot, hot! Thank you for coming to support us by buying drinks, snacks and ice creams; it was a sell out and you helped us raise a massive £297.45!



COMING UP


Watch out for the Road to Wimbledon over the next two weeks, which is being supported by our own tennis ace Mrs Tuffrey. Finally, on the 15th July, we have our big Summer Party, including disco!

Many thanks for all your continued support from all of the School Association.
Spring Term 2022

Posted 5th April: Dress Down Day


Also: a couple of additional dates for your diary! We will be holding our Quiz night on Friday 20th May, Jubilee Cake Sale on Thursday 26th May. We will also be having a 'Name the Corgi' Competition to celebrate the Jubilee. The Summer Party will be on Friday 15th July. Further details of all these events will follow after Easter.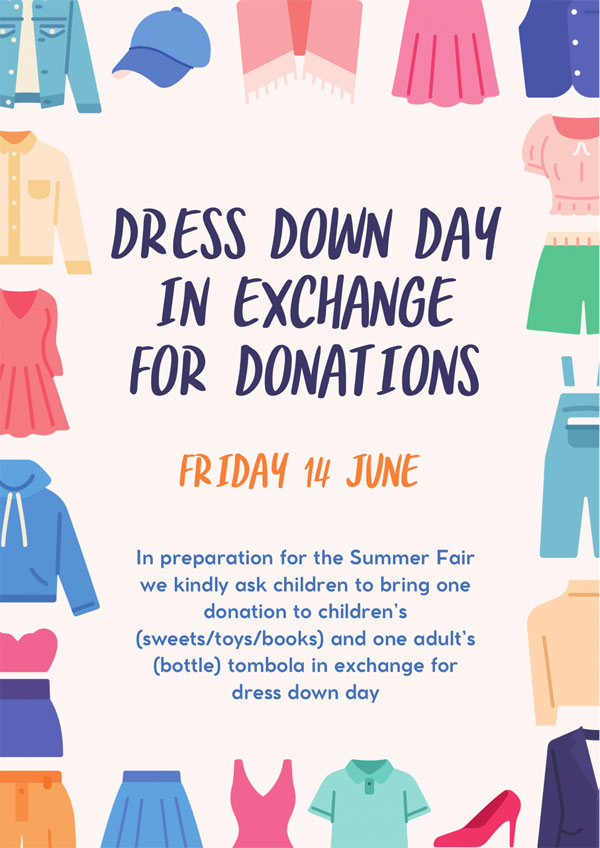 Posted 16th February: World Book Day Film Nights and Bags2School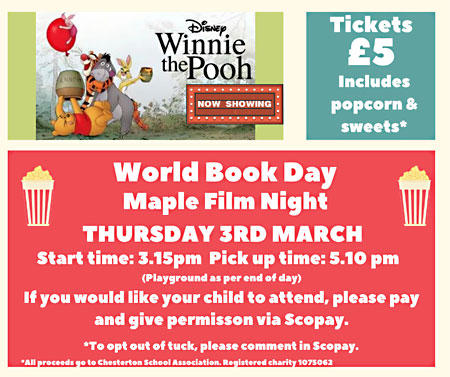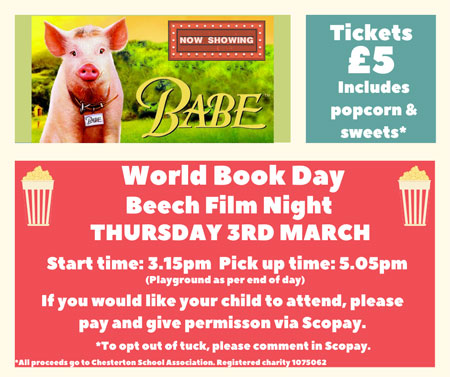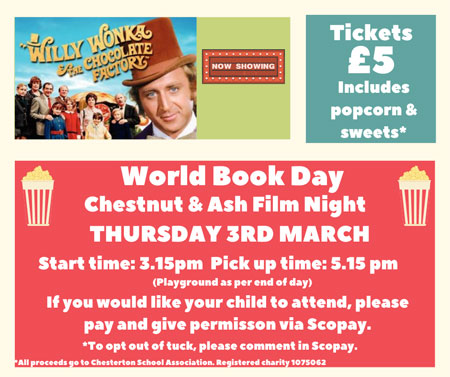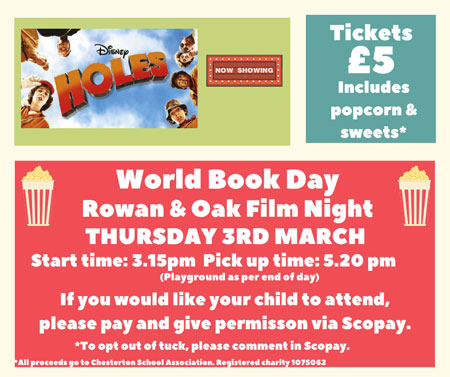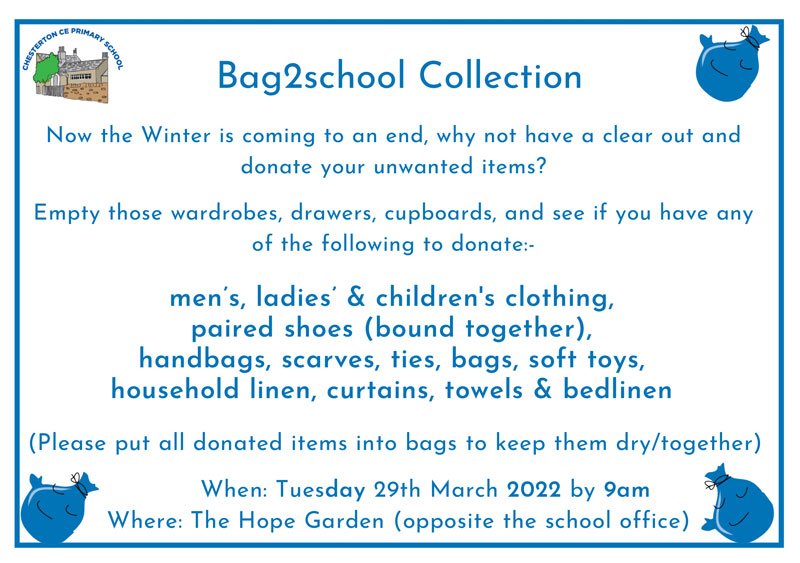 Posted 7th January: Class Coin Battle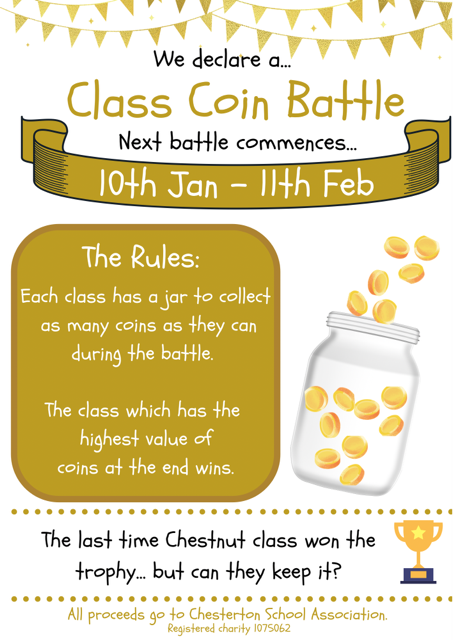 Autumn Term 2021

Posted 7th December: Film Nights, 13th Dec


(click on the images for the downloads)



Posted 1st December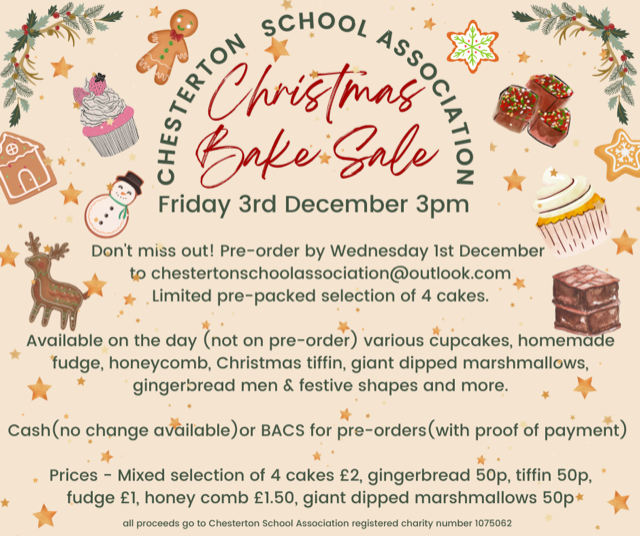 Posted 8th October




Discos, 15th October


Please find attached flyers about the SCHOOL ASSOCIATION DISCOS next Friday evening - 15th October, a hard copy is being sent home with your child today.
We have decided to trial a new system by asking you to pay via Scopay. This will appear on everyone's account and will be removed after the event. Please ignore, if your child is not going.
When booking on Scopay, please pay special attention to the consent box, where we are asking for your contact number and details about allergies if appropriate.
This time we are also asking you to send back the form in addition to your online booking. This may change in the future.
Please only pay for the ticket online, not the tuck. If your child would like tuck, please send them with a £1 coin on the night.
You can of course, send in cash or cheque with your form. Closing date is Wednesday 13th October.
Any queries, please contact the school office. Maple, Beech and Ash Flyer, Chestnut, Rowan and Oak Flyer



Posted 2nd October




School Association AGM on 6th October..


You are welcome to come along to support the team, the more the merrier! Download our flyer



Posted 29th September




Cauliflower Cards


During this week the children will be creating some Winter scene artwork within their classroom setting. This will be for the School Association fabulous fundraiser - Cauliflower Cards
The amazing artwork your child/ren create(s) will be sent home no later than Friday 1st October 2021.
This will be attached to an order form where you can choose to have their artwork converted into cards, gift tags, wrapping paper and even mugs. Please note there is a new online ordering system, all details are on the order form.
This is great way to share your child's creative talents with family and friends whilst supporting and fundraising for the School.
In order for these items to be printed to arrive late November, early December, there is a tight timeline for returning the forms to the school and we will need your orders no later than 3:20pm on Monday 11th October.
Watch out for these coming home in book bags.
Many thanks and best wishes
Summer Term 2021

Posted 17th May




Next meeting: Thursday 20th May



After a very strange time for fundraising, we would like to thank all of our volunteers; you have been amazing and we couldn't have done it without you. A School Association is only as good as the people who support it and we are always grateful for those who give up their time
Our next meeting will be held this Thursday 20th May at 4pm.
Due to current COVID restrictions rules, we are unable to invite any parents/carers to attend. However, please get in touch if
- you have any fundraising ideas to share with us.
- you are interested in a role.
- you would just like to get more involved in the organisation or running of events

Please let us know (we are a friendly bunch). We are always keen to encourage more volunteers to help, no matter how much or little time you can spare, you'll be very welcome to join us and your participation is much appreciated.

Please get in touch:
Grab us for a chat
Join the Facebook group and message us Chesterton School Association
email us at chestertonschoolassociation@outlook.com



Posted 29th April




Festive Film Nights, Friday 7th May 3.15pm for:


Maple Lower School and Upper School