Uniform
Chesterton school has decided to opt for a dress code. 
This consists of:
<> A pair of sensible outdoor school shoes. These should be black and suitable for school activities, such as running and playing.
<> A white polo shirt / white blouse / button-up shirt.
<> A navy blue sweatshirt (logo optional) or cardigan.
<> Black or dark grey 'school-type' trousers, skirt or tailored shorts (smart culottes are also acceptable).
<> Plain tights (black, grey or navy) or socks.
<> A 'gingham' blue/white summer dress or grey pinafore dress.
<> A coat or waterproof jacket.
School uniform can be ordered from PMG Schoolwear:
access the website here
Their service is very straightforward and easy to use. You will be able to order your uniform over the internet, by phone or by post.
PPolo shirts, sweatshirts and cardigans, which are manufactured with the school logo embroidered on the front, can be purchased via the link above. A selection of sizes are available in the school office to try on.
Please be aware
- It is not compulsory for school uniform to carry the school logo. However, uniform containing the school logo does increase a sense of pupil identity within the school and can make it easier for parents to decide what is/is not appropriate for school uniform.
We would ask that the following items of clothing are not part of the school uniform:
Jeans or skinny jean like trousers
Chinos or corduroy trousers
Patterned tights / Brightly coloured/patterned socks
Leggings (either instead of trousers or instead of tights)
Tracksuit bottoms
Hooded tops (either worn instead of school jumpers or as coats)
Shoes with high heels or wedges
Wellington boots

A change of footwear for use on the field in essential in order to keep our school clean and tidy, and these need to be kept at school throughout the term. We would therefore ask that a pair of wellies are kept in school at all times to enable us to make use of the field for outdoor learning and playtimes in all weathers. These should be stored neatly on the welly racks or in the boxes outside the classrooms.
PE Kit
<> A house-coloured Chesterton PE T-shirt (now available to order from the
PMG website
, see below).
<> Navy blue shorts (a 'skort' is acceptable).
<> Training shoes for outdoor games (hi-top trainers are not suitable)
<> Tracksuit trousers and warm top for outdoor games/cold weather.
*NB: Shorts should be worn for all PE lessons, with tracksuit bottoms worn on top when necessary. There are PE activities where the wearing of long trousers presents a safety hazard (eg. Using large gymnastics equipment).
These items should preferably be kept in a drawstring bag, or smaller shoulder bag that does not take up too much cloakroom space and should be in school all week. We sometimes have issues with pupils saying that their kit is at home because they 'didn't think PE was on that day.' Children should not wear any of the same clothes for PE that they have worn for the rest of the day.
Swimming
Children in Years 3 to 6 also require a swimming kit which should include:
<> A one-piece swimming costume for girls
<> Swimming trunks or shorts for boys (These should be above the knee as long shorts make it more difficult for children who are learning to swim)
<> A towel
<> A swimming hat
Please be aware that, should swimming goggles be needed, a letter from parents/carers is required. This will be explained in the start of year swimming letter.
We also ask that all items of clothing or footwear are clearly marked with the child's name.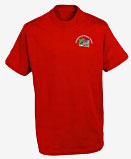 House PE T-Shirts
We have added PE shirts in house colours (priced at £4.50) to the uniform available from PMG (our usual suppliers). These can be worn as part of the school PE kit for use in PE lessons and for other sporting activities. We felt that they would also be useful for sports day in the summer term, as there would not be a need to find a coloured shirt to wear. Your child and any siblings will always remain in the same house, meaning that there won't be a need to find different coloured shirts each year.
These t-shirts are currently an 'optional extra' and existing navy blue PE t-shirts or plain white t-shirts/polo shirts can certainly still be worn.
Please follow this link to purchase